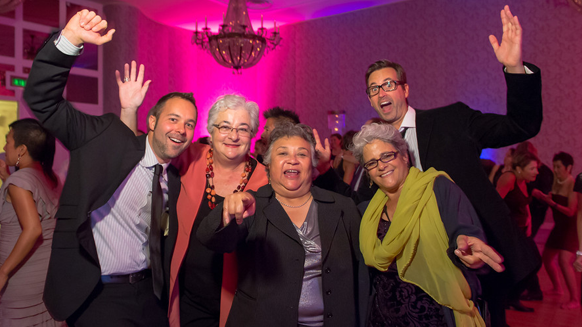 Horizons Foundation's Annual Gala Dinner & Casino Party is one of the highlights of the LGBT community's calendar. It's an evening of celebrating our fabulous community and honoring those whose significant contributions have helped us achieve so much progress in the LGBT movement.
Horizons' 2016 Gala is scheduled for Saturday, October 1
We're returning to the historic Fairmont San Francisco, high atop Nob Hill. After an elegant seated dinner and inspiring program, we'll take over the iconic Tonga Room to enjoy casino-style gaming and dance the night away! See the 2015 highlights »
2016 Gala program 
5:30 p.m. Reception and Silent Auction
7:00 p.m. Dinner and Program
8:30 p.m. Casino Party and the Tonga Room
Get Ready to GALA! There are many ways to participate in the festivities: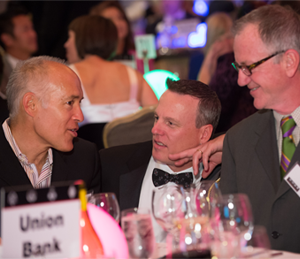 Attend the gala as a Table Sponsor or Table Captain. Grab your friends and come to the party!
Become a corporate sponsor. Show your company's pride and commitment by supporting the LGBT community, all while increasing your visibility and brand through our generous corporate benefit program.
Donate items to our spectacular silent auction. Spotlight your business in our online and silent auction, and watch as bidders compete for your services.
For these and other custom opportunities, please contact Deb Stallings, Vice President of Development, at (415) 398.2333, ext. 103 or dstallings@horizonsfoundation.org.
Supporters and Honorees of Horizons Foundation's 35th Anniversary Gala Dinner & Casino Party
Honoring
LGBT Refugees and Asylees

now living in the Bay Area

 

Courage Awards
2015 Gala Co-Chairs
Al Baum & Robert Holgate
Larry Colton & John McCoy
Anne Sterling Dorman
William D. Glenn & Prescott W. Hafner
Michael Hulton
Jeff Lewy & Ed Eishen
Susan Lowenberg & Joyce Newstat
Ferolyn Powell (in memoriam)
Emily Rosenberg & Darlene de Manincor
We gratefully acknowledge our 2015 Gala Sponsors: 
Visionary

Advocate

Builder

Margarita Gandia

William D. Glenn

&

Prescott W. Hafner

Susan Lowenberg

&

Joyce Newstat

Sustainer

A52 Signs & Graphics
John Bare & Ignatius Bau
Tom Burke & Axel Brunger
Dolby Laboratories
Anne Sterling Dorman
Robert Evans & Terry Micheau
Erin Flynn & Chloe Atkins
Gay Therapy Center San Francisco
Evelyn & Walter Haas, Jr. Fund
Cathy Halligan & Zoon Nguyen
Joanne Jordan & Jan Robertson
Lawrence R. Kolka & Ian J. MacWilliams
Jeff Lewy & Ed Eishen
Recology
James R. Shay & Steven Correll
Walden Asset Management
Irene V. White

Leader

Bank of America SF Market
Deloitte Tax LLP
Barbara Noda & Mimi Liem
Michael Rabanal & Alfredo Victorio
A. Sparks
Benjamin H. Woo, CFP®
Morgan Stanley Wealth Management, LLC

Ally

Adler & Colvin
Robert D. Dockendorff
Grace Flannery & Glenda Humiston

Major In-kind
2015 Table Captains
Rosío Alvarez & Juana María Rodríguez
Corinne Suyeyasu
Roger Doughty & Royce Lin
Devesh Khatu
Audrey Koh, MD & Gaeta Bell
John Clay Leonard
Michelle Ney
Dan C. Quigley & Eric Emanuel
Gale Richards & Ruth Dawson
Robasciotti & Associates, Inc.
Beverly A. Scott & Courtney
Peter K. Scott & Stephen Perreault
Lia Shigemura & Helen Zia
Deb Stallings & Carol Whichard
Olga Talamante
Annette Tracy
Past Gala Events & Photo Galleries
We would like to extend a huge thank you to all those who have attended and contributed to the record-breaking success of the Horizons Foundation Annual Gala Dinner and Casino Party! 
2014 Gala Dinner & Casino Party Photo & Video Gallery
2013 Gala Dinner & Casino Party Photo & Video Gallery 
2012 Gala Dinner & Casino Party Photo Gallery