2015 LGBT Golf Fore Good Teed Up for Success!
Thank you so much to the many supporters of Horizons Foundation's 6th Annual LGBT Golf Fore Good Women's Tournament and Tee Dance! This year was the most successful LGBT Golf Fore Good to date! We are absolutely delighted with the stellar group of women golfers, sponsors, volunteers, and dancers that came out in support of Horizons and the LGBT community this year!
Horizons Foundation is excited to announce that LGBT Golf Fore Good 2015 raised more than $42,000 to help meet the needs, secure the rights and celebrate the lives of LGBT people.
Congratulations to our Tournament Winners! 
Birdie Birds

1st Place Team

KaLiLoMo

2nd Place Team

Returning Champions

3rd Place Team

 Dolly Coleman

Closest to the Pin

Dacia Hsueh

Longest Drive

Kamanawanalaya

Best Dressed Foursome
 (scroll down to view the photo gallery)
Big Thanks All Around!
A heartfelt thanks to all of our event sponsors! You made the day extra-special for us all!
PRESENTING SPONSOR
BIRDIE SPONSORS
PAR SPONSORS
HOLE SPONSORS
Lea Militello & Annamarie Viglizzo
Moulds Family Vineyards
Olga Talamante
Peter Scott
Randy Quebec
Roger Doughty & Royce Lin
Terry Micheau & Rob Evans
RAFFLE & AUCTION SPONSORS
PLANNING COMMITTEE
Abby Conklin, Brittan Chow, Dawn Ackerman, Deb Kinney, Deb Stallings, Eleanor Palacios, Fran Herman, Jamie Leno Zimron, Kandra Rivers, Kelly Sherman, Laura Bray, Lise Rubarth, Lori Bilella, Marie Trexler, Pam Hones
EVENT VOLUNTEERS
Anne Dorman, Brandon Miller, Carol Whichard, Dana Copeland, Dennis Nix, Eleanor Palacios, Emily Libby, Jim Rosenau, Jennifer Crowell, Grace Liang, Joanne Jordan, Kavena Hambira, Kim Smith, Maya Philipson, Nikole Pagan, Olga Talamante, Rachel J. Robasciotti, Sandy Jack
AND OUR SPECIAL GUESTS…
San Francisco Cheer for energizing us and sending us to the course in style!
Beth Nelsen and Ewan Duarte for capturing photo memories throughout the day.
LPGA Pro Jamie Leno Zimron (The Golf Sensei) for leading a pre-tee warm up.
DJ Airsun from Love in the Mix who kept us dancing into the night.
And thank YOU!
We hope to see everyone next year on the course and dance floor! You can save the date for June 17, 2016. We hope you are on our mailing list, but if you want to make sure you are notified when tickets go on sale and upcoming news, please fill out this contact form, and we will add you to our list.
Some of our golfers and planning committee members have requested a space to be able to connect all year round. We have created a private Facebook group and we hope you will join. Find other Bay Area golfers and stay up-to-date with LGBT Golf Fore Good news.  
You think LGBT Golf Fore Good is fun?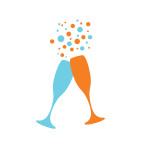 Don't wait another year to connect! Grab your foursome and join us for our 35th Anniversary Gala Dinner & Casino Party on October 3, 2015 at the historic Fairmont San Francisco. It is THE Horizons' event of the year, and you don't want to miss it. learn more »
Photos from Golf Fore Good 2015!
Photos by Beth Nelsen and Ewan Duarte.