2015 Request for Proposals, Community Issues Grants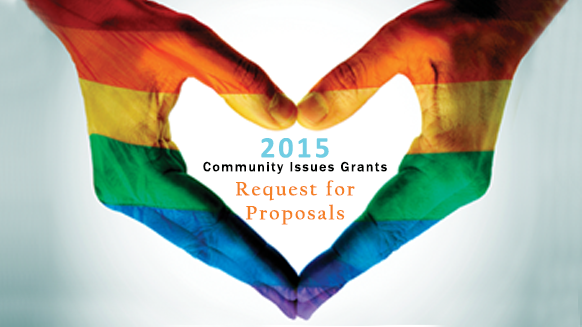 Horizons Foundation announces the release of the Community Issues Request for Proposals (RFP) aimed at supporting important work in the San Francisco Bay Area LGBT community. 
2015 Community Issues Proposal Guidelines
2015 Community Issues Application Form –Updated
Please note that Horizons' submission process requires both electronic and paper submission in order for an application to be considered complete.  The proposal deadline for the electronic submission is August 13, 2015. The requirement to submit paper copies of the application is a day later.  Paper applications must be post-marked no later than Friday, August 14, 2015 or hand-delivered applications must be received in our office no later than 5:00 p.m. on Friday August 14, 2015.
Once again, Horizons' staff will be conducting applications workshops throughout the San Francisco Bay Area from July 16 to 23, 2015. Due to changes in the application process, returning applicants as well as first time applicants are encouraged to attend one of these workshops. We ask that you fill out a brief survey letting us know which, if any, workshop you plan to attend. RSVP for Application Workshop»
Application Workshops
Thursday, July 16 
Friday, July 17
Monday, July 20
5:00- 6:00 p.m. – Conference Call
Tuesday, July 21
Thursday, July 23
12:00- 1:00 p.m. – Conference Call
RSVP for Application Workshop»
Contact Us
We look forward to receiving your proposal and hearing about your work and your goals. If you have any questions, please do not hesitate to contact Horizons' grantmaking offices. You may contact Nikole Pagan, Administrative Manager, at 415.398.2333 ext. 100, [email protected]ation.org or Francisco O. Buchting, Vice President of Grants, Programs, and Strategic Initiatives, at 415. 398.2333 ext. 116, [email protected].
Resources
2015 Community Issues Proposal Guidelines