2016 Gala Highlights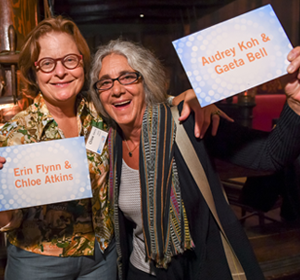 Thank you to everyone who attended Horizons' 2016 Gala Dinner & Casino Party! We hope that you had a fabulous night, and we look forward to celebrating again with you next year. Save the date for October, 7, 2017.
As we shared at the Gala, Horizons' Now and Forever Campaign has made remarkable progress in 2016! We are so proud to have raised over 3.5 million for the first stage of the campaign. We invite you to join this historic campaign as we make our final push through 2016. Learn more about the Now & Forever Campaign »
Horizons Foundation is thrilled to support youth and senior organizations – whose work is changing thousands of lives each day. A special thank you to enGender and Old Lesbians Organizing for Change (OLOC) that shared their stories with us in this video. Watch the video below that premiered at the 2016 Gala. 
Roger Doughty's Remarks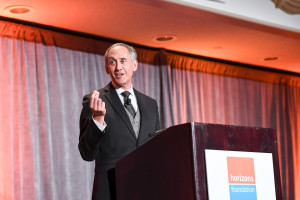 "We dream of a world in which every member of our community can live with equality, dignity, justice, and joy." Watch Roger's Remarks »
2016 Honorees
BISHOP YVETTE A. FLUNDER & SENATOR MARK LENO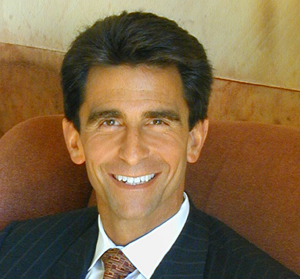 Thank you to our sponsors and the many supporters that made the night possible!
2016 Sponsors
We gratefully acknowledge our 2016 Gala sponsors. 
ADVOCATE
Dolby Laboratories ♦ Dropbox ♦ PG&E ♦ Union Bank ♦ Kevin McCarthy & David P. Bui, MD
BUILDER
A52 Signs & Graphics ♦ Bob Ross Foundation ♦ BNY Mellon Wealth Management ♦ Brio Financial Group ♦ Merrill Lynch ♦ Recology ♦ Target ♦ Al Baum & Robert Holgate ♦ Margarita Gandia ♦ William D. Glenn & Prescott W. Hafner ♦ Susan Lowenberg & Joyce Newstat
SUSTAINER
Caryl Athanasiu ♦ John Bare & Ignatius Bau ♦ Adam Blum & Gary Lang ♦ Tom Burke & Axel Brunger ♦ Anne Sterling Dorman & Annette Tracy ♦ Erin Flynn & Chloe Atkins ♦ Johnston, Kinney & Zulaica LLP ♦ Lawrence R. Kolka & Ian J. MacWilliams ♦ John Osborn, Mechanics Bank ♦ Daniel Nuemann & David Richardson ♦ Pacific Fertility Center, ♦ Wendel, Rosen, Black & Dean, LLP ♦ James Shay & Steve Correll ♦ Irene V. White
LEADER
Deloitte Tax LLP ♦ Levi Strauss Foundation ♦ Barbara Noda & Mimi Liem ♦ Price Waterhouse Cooper, LLP ♦ Robasciotti & Philipson ♦ Randall A. Shields & Harrison Yeoh ♦ A, Sparks 6♦  Walden Asset Management
ALLY
Adler & Colvin ♦ Comerica Bank ♦ Robert Dockendorff ♦ Liz Hoadley & Marsha Gale ♦ Jeff Lewy & Ed Eishen Raymond McKenzie ♦ RINA accountancy corporation ♦ Patricia Simpson, MD & Radah Butler ♦ Robert Stenberg
MAJOR IN-KIND DONORS
Alaska Airlines ♦ Bink ♦ Hafner Vineyard ♦ San Francisco Bay Times ♦ San Francisco Business Times
2016 TABLE HOSTS & TABLE CAPTAINS
Acorns for Change ♦ Rosío Alvarez & Juana María Rodríguez ♦ Jay Cohen ♦ Roger Doughty & Royce Lin ♦ Rob Evans & Terry Micheau ♦ Dan Joraanstad & Bob Hermann ♦ Devesh Khatu ♦ Paul E. Kennedy & John Marsh ♦ Audrey Koh, MD & Gaeta Bell ♦ Dan C. Quigley & Eric Emanuel ♦ Robasciotti & Philipson ♦ Julie Schatz Investor's Capital Management ♦ Bev Scott & Courtney ♦ Lia Shigemura & Helen Zia ♦ Daniel Sonnenfeld ♦ Deb Stallings ♦ Olga Talamante & Adair McClatchy
2016 GALA CO-CHAIRS
Al Baum & Robert Holgate ♦ Larry Colton & John McCoy ♦ Chip Conley ♦ Anne Sterling Dorman ♦ William D. Glenn & Prescott W. Hafner ♦ Michael Hulton ♦ Joq Lasner ♦ Jeff Lewy & Ed Eishen ♦ Susan Lowenberg & Joyce Newstat ♦ Emily Rosenberg & Darlene de Manincor
2016 HONORARY CELEBRATION COMMITTEE
A. Sparks ♦ John Bare & Ignatius Bau ♦ Adam Blum & Gary Lang ♦ Tom Burke & Axel Brunger ♦ Richard T. Davis-Lowell  & William J. Lowell ♦ Rob Evans & Terry Micheau ♦ Erin Flynn & Chloe Atkins ♦ Margarita Gandia ♦ Linda Harrison & Ellen Anderson ♦ Fredrick Hertz ♦ Jean Johnston & Kate Morris ♦ Dan Joraanstad & Bob Hermann ♦ Bruce Kikuyama & Mark Smigelski ♦ Audrey Koh, MD & Gaeta Bell ♦ Lawrence R. Kolka & Ian J. MacWilliams ♦ Daniel Lee ♦ John Osborn ♦ Dan C. Quigley & Eric Emanuel ♦ Michael Rabanal & Alfredo Victorio ♦ Rachel J. Robasciotti ♦ Robert W. Sass ♦ Linda Scaparotti ♦ Jim Shay & Steve Correll ♦ Léonie Walker & Kate O'Hanlan, MD ♦ Irene V. White ♦ Helen Zia & Lia Shigemura