2017 Q-Series Inequality and Broken Dreams in the Bay Area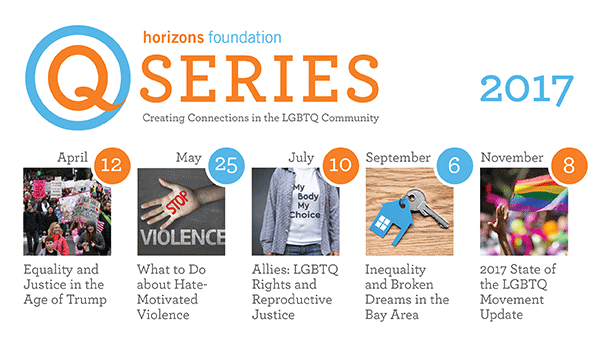 Wednesday September 6, 6:00pm – 8:00 pm
Hosted at the East Bay Community Foundation
353 Frank H Ogawa Plaza, Oakland, CA 94612
For decades, LGBTQ people have flocked to the Bay Area to find community and pursue their dreams. But as income inequality continues to deepen, and as the cost of surviving (much less living) skyrockets, the already shaky situation for many is now threatened further by the prospect of massive cuts to the social safety net. Queer youth, aging members of the Stonewall, LGBTQ people without financial resources – all may soon be more vulnerable than ever. What can we do? Hear the experts, discuss the issues, and find solutions. 
Panelists:
James W. Head, President & CEO, East Bay Community Foundation
Mary Howe, Executive Director, Homeless Youth Alliance
Karyn Skultety, Ph.D. Executive Director, Openhouse
Moderator: Gwen Walden, Senior Managing Director, Arabella Advisors
Q-Series Program: 
6:00pm – 6:30pm – Check-in, reception
6:30pm – 7:45 pm – Panel Discussion
7:45pm – 8:00pm – Q&A 
This event is in partnership with the East Bay Community Foundation.