Horizons' Grants Touch Every Part of the Bay Area
Horizon Foundation, the nation's first community foundation dedicated to the LGBTQ community,  recently surpassed more than $40 million in lifetime giving.  Our grants did more than just follow the growth of the LGBTQ community, they helped to chart its course. During its first decade alone, Horizons seeded some of the most influential LGBTQ organizations of our time, including the National Center for Lesbian Rights (NCLR), the Gay Games, and Project Open Hand. Horizons' birth predated the appearance of HIV by only a short time. In keeping with the pattern of early seed funding, Horizons made history in 1982 as the first foundation in the U.S. to support an AIDS service provider: the Kaposi's Sarcoma Research and Education Foundation, now known as the San Francisco AIDS Foundation.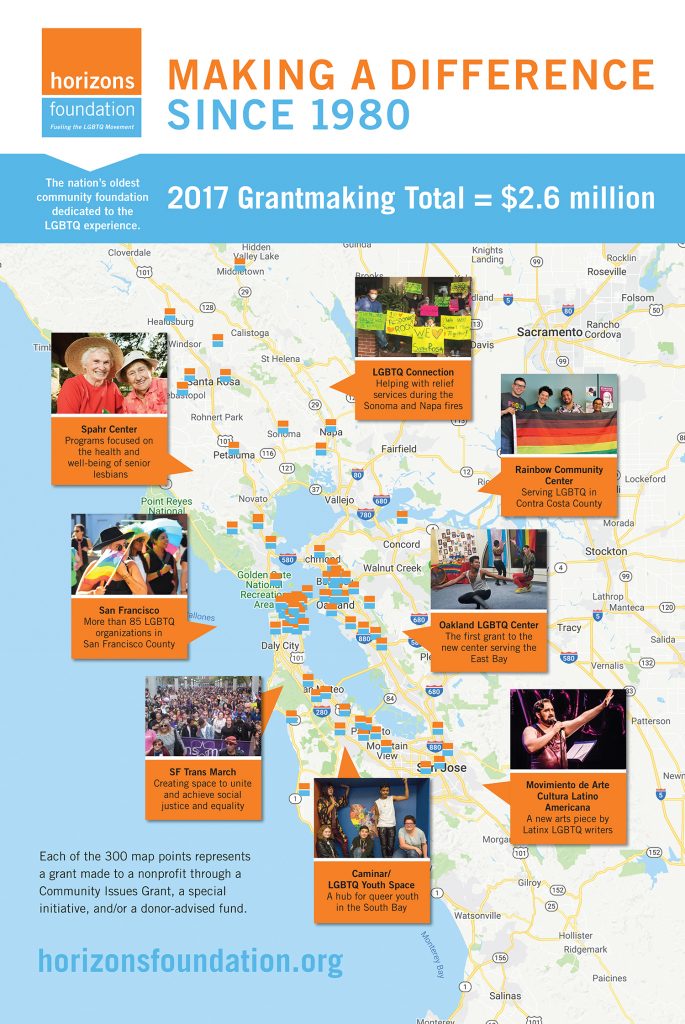 More recently, in response to today's needs, Horizons gave early grants to Transgender Law Center and the one-year-old Oakland LGBTQ Community Center, El/La Para Translatinas, Our Family Coalition, as well as dozens of other organizations across the nine-county Bay Area.
Current events demonstrate just how fragile LGBTQ rights continue to be and that opposing forces are steadfast in their commitment to overturn the rights we've gained. At the heart of Horizons' mission is to create a world where young people thrive in safe and supportive homes and schools, our community's elders can age with dignity and in community, where our histories will be told, and where we are able to safeguard and expand the gains we've all fought so hard to win.