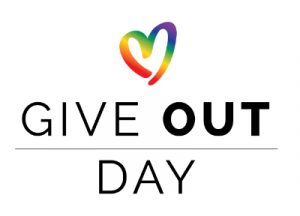 Give OUT Day is the ONLY national day of giving for the LGBTQ community – a 24-hour online fundraising event that unites donors and nonprofit organizations from across the country to raise critically needed funds. The technology platform is provided for free and hundreds of nonprofits have leveraged it to attract new donors, motivate their boards and other supporters, and raise their visibility. Learn more at the Give OUT Day website.
Since its inception in 2013, tens of thousands of individual donors have contributed millions of dollars and supported more than 600 different organizations in every part of the country. These funds have translated directly into services, advocacy, and programs that help tens of thousands of LGBTQ people.
Participating nonprofits also receive training, marketing support, and a chance to win bonus prize money.
NEW HOME!
Horizons Foundation will be the new home for Give OUT Day 2016 from this point forward. Based in the Bay Area, Horizons has been supporting the LGBTQ movement and community for nearly 40 years. A core part of our mission has long been to increase giving by LGBTQ people (and our allies) to LGBTQ organizations – and Give OUT Day fits perfectly. We're absolutely, 100% committed to making Give OUT Day a success for your organization.
Follow Give OUT Day on Facebook