Scholarships of up to $2,000 for two years (students may reapply for additional awards) are available to LGBTQ graduate and undergraduate students who plan to attend San Francisco State University, Stanford University, University of California, Berkeley, or University of California, San Francisco* during the academic year of the award.
*Due to limited funding, this does not include schools affiliated with the GTU.
What is the Markowski-Leach Scholarship Fund?
The fund was established as part of a bequest from the estate of Jim Leach. He wanted to see that his partner, Tom Markowski's, vision of a scholarship for gays and lesbians was brought to fruition. The purpose of the fund is to award scholarship money to deserving students. Selected candidates must demonstrate their dedication to excellence in their lives through service, education, or employment. The Selection Committee attempts to identify students who show promise of becoming positive role models for other LGBTQ people.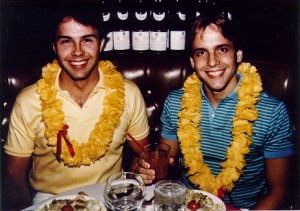 There have been several large gifts to the scholarship fund over the years and smaller contributions of cash and other support that have allowed the fund to grow and thus to benefit. One aim of the Selection Committee to ensure that the fund continues in perpetuity.
Though no targets are set, candidates that are selected represent a mix of gender and school enrollment that reflects the applicant pool. The scholarship is not need-based; awards are made on the merit of the candidate's work, community involvement, and their future goals.
Who were Tom Markowski and Jim Leach?
Tom and Jim were two young gay men who had been partners for a number of years. The men moved to San Francisco from Houston, Texas. They were both computer analysts for Bay Area firms. As Tom became ill and reflected on his short life, he came upon the idea of creating the scholarship fund to give other gays and lesbians the opportunity to educate themselves. His hope was to educate men and women who would become positive role models for other gays and lesbians.
Tom very much wanted to ensure his life made a difference in the world. Jim brought his partner's vision of a scholarship fund to life. Many years after their deaths, they continue to make a difference in the lives of award recipients and others connected with the scholarship fund.
For more information, visit the Markowski-Leach Scholarship website, or you can learn more about Tom and Jim by reading this Los Angeles Times article, written at the time the fund was established.