Asylee, Immigrant & Refugee Emergency Action Fund (AIREA)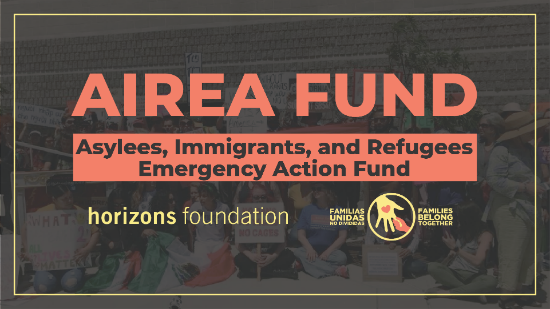 The Asylee, Immigrant, and Refugee Emergency Action Fund (AIREA) has been created by Horizons Foundation to support organizations working to resist current policies that are separating families and summarily turning back people escaping violence and persecution in their home countries.
The Trump Administration's inhumane separation and detention of families at the United States border and the blatantly discriminatory ban on Muslim immigrants are affronts to the values for which America stands. The AIREA Fund is designed to support organizations that are fighting for the human rights of immigrants, refugees, and asylees
Immigration is an LGBTQ issue. More than 70 countries around the world criminalize the existence of LGBTQ people. Immigration to the U.S. and other relatively LGBTQ-friendly countries through asylum has often been the only recourse LGBTQ people have to avoid persecution, violence, and even death.
Your tax-deductible contributions will be divided equally between the following critical national and Bay Area organizations: Aldea, CARECEN, Kids in Need of Defense, Mujeres Unidas y Activas!, National Center for Lesbian Rights, Oasis Legal Services, Refugee Transitions, SF Immigrant Legal Defense Collaborative, and Young Center for Immigrant Children's Rights.
"Between the family separations taking place at the border and the Supreme Court decision to uphold the Administration's Muslim Ban, we know immigrants are under attack and need our help and support," stated Olga Talamante, AIREA co-founder and co-chair of Horizons' board of directors.
"It is our hope that these outrageous events will galvanize our community to stand up to hate and send a clear message to those in power that we stand as one," added Edward Wright, AIREA co-founder.
The San Francisco/Bay Area is known throughout the world as a region that embraces diversity and chooses compassion over violence, and community over division. Please give generously as we unite our communities to oppose the unconscionable policies of this Administration.
Get to Know AIREA's Beneficiaries:
Aldea, the People's Justice Center – providing on-the-ground assistance to those held at detention centers
CARECEN SF – providing social services and advocacy for SF immigrants
Kids in Need of Defense – protecting unaccompanied children who enter the US immigration system alone to ensure that no child appears in court without an attorney
Mujeres Unidas y Activas – offering leadership training, organizing, and social justice work with & for immigrants
National Center for Lesbian Rights – providing asylee and immigrant legal work in the LGBTQ community
Oasis Legal Services – providing legal services to immigrants and asylees in the LGBTQ community
Refugee Transitions – supporting refugees and asylum seekers in the Bay Area
SF Immigrant Legal Defense Collaborative  – providing legal services and advocacy for immigrants in the SF Bay Area
Young Center for Immigrant Children's Rights – promoting the best interests of unaccompanied immigrant children