Give OUT Day 2018 Shatters Records
More than $932,000 dollars raised for 400+ nonprofits 
April 25, 2018, San Francisco, CA –Give OUT Day (www.giveOUTday.org) – the only national LGBTQ day of giving – today announced the record-breaking success of its sixth annual event.  2018's Give OUT Day, held on April 19th, raised more than $932,000 for 400+ participating organizations in all 50 states and the District of Columbia.  In addition, Give OUT Day 2018 broke its previous record for number of donations made in 24 hours: 12,500.  The total marked a 28.2% increase over last year's fundraising total and a 32.9% increase in number of donors participating. Give OUT Day is a program of San Francisco's Horizons Foundation.
"In these days of challenges on many fronts, it is encouraging to see Give OUT Day demonstrate the power of our communities rallying around so many important organizations," stated Horizons Foundation President Roger Doughty. "By raising our voices together, we did not simply retain much-needed funding for participants, we created a national conversation about those who serve the diverse needs of our communities -from advocacy groups to senior centers, youth groups, choruses, sports leagues, health care, and more.  They are making a difference in their local communities and changing hearts and minds along the way, "concluded Doughty.
"In the past year, our community has faced enormous opposition politically and through a simple act of giving, we've stood up to adversity and hatred and strengthened the resistance," stated Give OUT Day Program Manager Nikole Pagan. "It is thrilling to watch Give OUT Day bring our community and allies together."
In addition to the funds raised by individuals, Horizons Foundation, with support from other foundation partners, awarded leaderboard prizes worth nearly $130,000. Prizes were awarded to organizations that raised funds from the greatest number of individual donors in multiple categories. In 2018, new categories focused on groups who specifically serve women, people of color, bisexuals, and transgender individuals joined previous leaderboards based on organizational budget size and geographic location.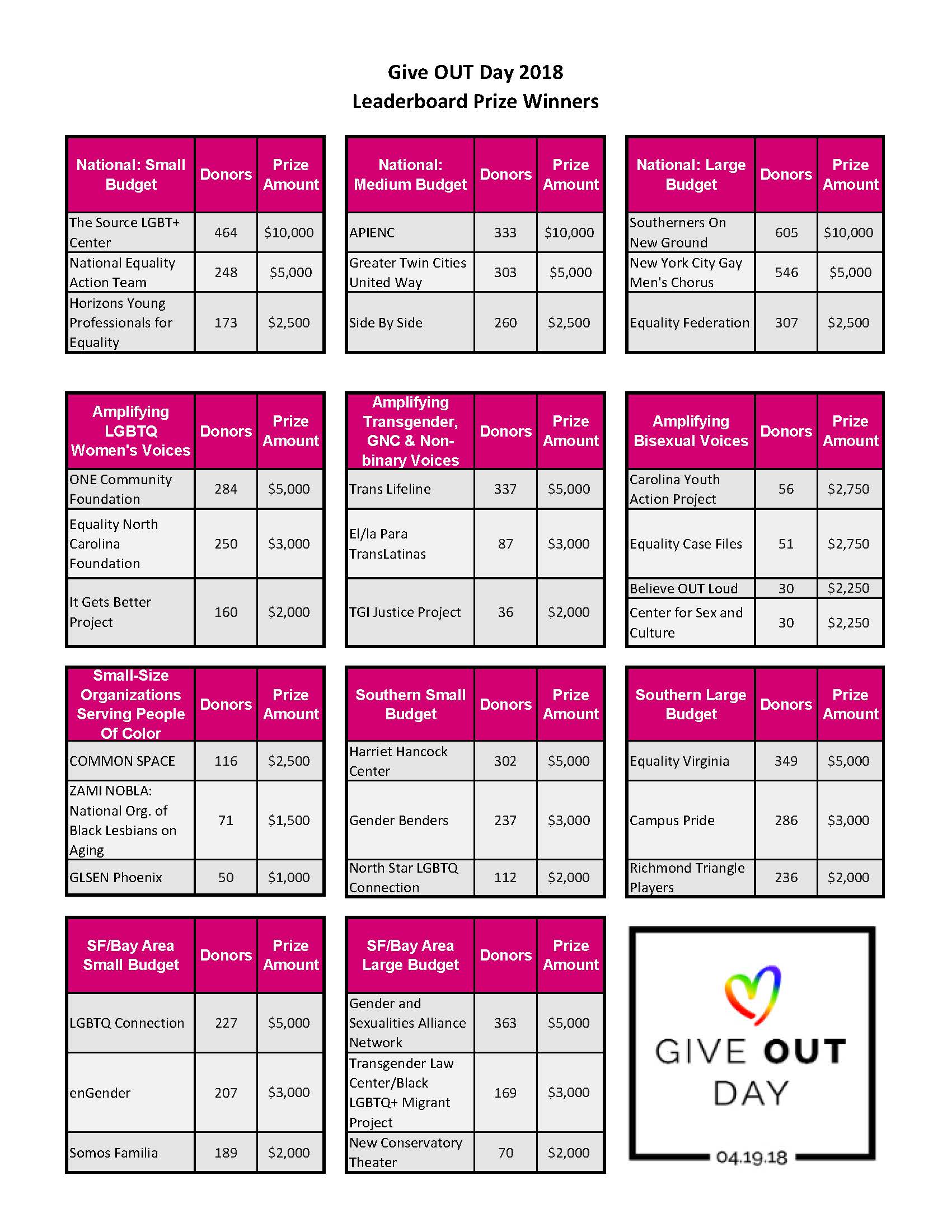 Give OUT Day national leaderboards were sponsored by the Arcus Foundation, Harnisch Foundation, Laughing Gull Foundation, and two anonymous funders. Additional Give OUT Day sponsors and partners include, Click & Pledge, Clever, The Blade Foundation, and Hornet Media.
 Among the reasons for giving cited by Give OUT Day donors:
 

"My daughter is a lesbian and I want to do everything in my power to make sure she can live a normal life like everyone else."

 

"It's critical to support LGBTQ organizations, and, doubly so, in the current climate of Trump and Pence."

"As a gay male married couple, we feel that it is important that young people have the opportunity to experience a non-prejudiced life. We are in our 60's, have been together 32 years. Even today we face discrimination on the state and federal level. We need a voice to represent us and end this for us and future generations."

"Equality is still not guaranteed, even in this day and age. We need to do more to make that happen."
 Give OUT Day has provided vital, unrestricted operating funds to organizations since its inception in 2013. Over 45,000 individual donors have contributed nearly $5 million and supported more than 600 different organizations in every part of the country.