If you're an LGBT person, chances are very good you've contributed to the progress of our movement and the building of LGBT communities. Maybe you've been a volunteer or joined a rally. Maybe you've made a difference simply by being out at your job. Chances are good, too, that you've donated financially, whether that's through regular giving to LGBT organizations or tossing a few dollars into a donation bucket now and then.
It's precisely that generosity that's made the LGBT movement and the LGBT community possible. That's been true in Horizons' home, the San Francisco Bay Area, and across the country.
For many of us, our single greatest chance to contribute financially to the LGBT community comes through our estates. That's because many people tend, over their lifetimes, to accumulate more in total wealth than they've ever had in annual income.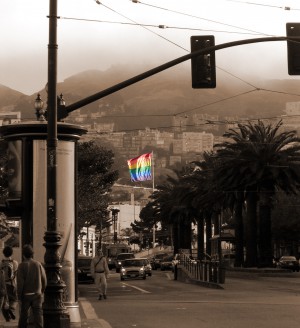 When you make a bequest or other form of estate gift to our community, you join a wider movement determined to meet the needs, secure the rights, and celebrate the lives of LGBT people. You become an author of our history. If you choose to include Horizons' LGBT Community Endowment Fund in your plans, your generosity will be felt for generations to come. Your commitment and leadership can serve as powerful inspiration to others.
For many years, Horizons has worked with generous individuals and couples to support the LGBT community through their estates in ways that reflect their personal values and priorities. We've helped hundreds of people to:
Provide for specific nonprofit organizations that they care about
Dedicate gifts to a particular area of interest, such as the arts or LGBT youth
Ensure our community's long-term future by supporting the LGBT Community Endowment Fund
Whatever your goals, Horizons is committed to helping you create a meaningful legacy — both for you and our community.
For more information, please contact Deb Stallings, Director of Development, at (415) 398.2333, ext. 103 or [email protected].