Horizons Foundation honors Lt. Gov. Gavin Newsom with Visionary Award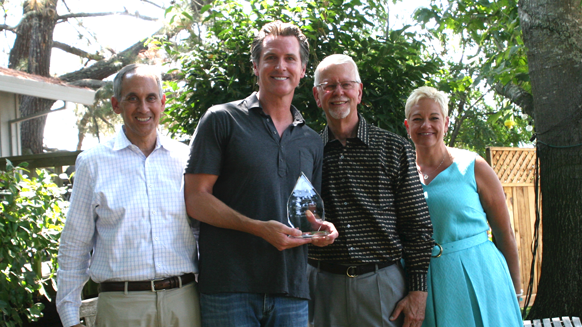 Horizons Foundation honored Lt. Gov. Gavin Newsom with its Visionary Award at the foundation's August 16th Leadership Luncheon at O'Brien Estate in Napa Valley. The awards recognizes Newsom's early support of marriage equality when, as mayor of San Francisco, he ordered county clerks to issue marriage licenses to over 4,000 same-sex couples, and his on-going stalwart support of LGBT equality.
Roger Doughty, Horizons' executive director, said "Gavin Newsom's leadership on this issue in 2004 and since then, helped immeasurably to set in motion much of the progress the LGBT community now celebrates including the Supreme Court's recent ruling making marriage equality the law of the land." In 2004, Newsom gained national attention when he directed the San Francisco county clerk to issue marriage licenses to some 4,000 same-sex couples. Newsom's courageous move catapulted the issue of gay marriage onto a national and international stage."
The Visionary Award was presented by Honorable Vaughn R. Walker, retired U.S. District Court judge, who presided over Hollingsworth v. Perry, where he found California's Proposition 8 to be unconstitutional.