LGBT Organizations & Projects, Get Ready for Give OUT Day 2015!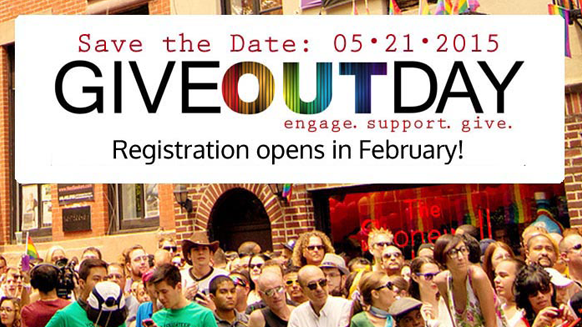 Scores of Bay Area LGBT organizations and projects have raised tens of thousands of dollars in the last two years through Give OUT Day, a national day spotlighting giving to LGBT nonprofits across the country. Horizons Foundation would like to invite Bay Area LGBT organizations and projects to participate in this exciting fundraising and community-building opportunity, which is set for May 21, 2015.
HEADS UP: An initial webinar called "Give OUT Basics – Overview & Registration"
will take place
Wednesday, March 4, from 1:00 – 2:00 pm PST
 Note: If you are a previous participant, Give OUT Day will be run via Click & Pledge this year, and the sign up and registration process will be different. The above webinar will be immensely helpful for both new and returning organizations.
Give OUT DAY 2014 mobilized more than 12,000 individuals to give over $1,000,000 to LGBT organizations across the country. Once again, the Bay Area was remarkably successful. We had just over 15% of the national total raised here, or more than $150,000. Including cash prize awards, 61 Bay Area LGBT nonprofits collectively raised more than $167,000. And – what's even better from a strategic perspective – about 21% of the total donations from across the country were made to Bay Area organizations – more than 3,200 of them!
We hope you will join us in making Give OUT DAY 2015 the biggest and best one yet! 
What is Give OUT Day?
Now in its third year, Give OUT Day is spearheaded by a New York-based group called Bolder Giving.  Horizons is once again partnering with Bolder Giving to try to maximize this opportunity for LGBT organizations in the Bay Area.  
Give OUT Day is the national day of giving for the LGBTQ community – a 24-hour online fundraising competition that unites the LGBTQ community nationally to raise critically needed funds to support the diverse array of LGBTQ nonprofits including community centers, arts groups, organizers, clinics, student clubs, sports leagues and more. As we learned in the past two years, Give OUT Day has the potential to generate both more giving from current donors and – even more importantly – new donors for groups:
Visibility and new donors: Giving days create new visibility for the importance of giving and for participating organizations themselves – including among people who don't already know about the great work you do
Current donors: The giving day provides a ready-made electronic platform for organizations to use to solicit their existing donors for additional support.
Bay Area presence: Horizons and Bolder Giving are creating a new "Bay Area portal" on the Give OUT Day website, which will then guide potential donors to LGBT groups based here. Horizons staff will work with our local organizations to promote your work on our own social media.
Generating interest and visibility: The foundation is also once again sponsoring two Bay Area "leaderboards," which will post, in real time on May 21, the number of donations made to the top five Bay Area organizations (who is "leading" changes throughout the day, creating a sense of excitement and healthy competition that you can use to motivate donors)
To add to the excitement – and potential motivation for donors –Horizons will be offering special grant awards to six participating Bay Area organizations with the greatest number of individual donors on Give OUT Day. There will be awards made to three groups with budgets under $500,000, and three more to groups with budgets between $500,000 and $4,000,000 (the idea being to give everyone a shot at winning). Details on award levels will be available in the coming weeks.
How to participate (it's easy)
We hope you will join this national – and Bay Area – effort. It's rare that an opportunity like this comes along, and we will gladly provide whatever support we can to help your organization make the most of it. To help get you started, Bolder Giving is offering a series of webinars. 
Please note that the deadline for registering is April 30, 2015
If you have any questions about Horizons' roles in this event, please contact Nikole Pagan, Administrative Manager, at (415) 398.2333, ext. 100 or [email protected]. For questions about registering and Give OUT Day in general, contact Bolder Giving at [email protected].
Resource
Need more help? Check out this handy document to help you get started with Give OUT Day 2015.