The purpose of GAPA's George Choy Memorial Scholarship is to provide financial assistance to lesbian, gay, bisexual, and transgender Asian and Pacific Islanders (APIs) entering their first or second year of post-secondary education. The maximum grant award is currently $1,000.
Who was George Choy?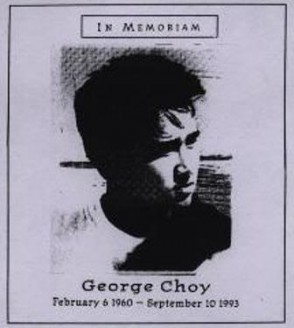 George Choy was an ardent activist who spoke out for queer APIs, driven by the belief that we are all "part of the family, too." He was especially vocal in support of queer youth in our community, successfully representing GAPA to the San Francisco Board of Supervisors to pass Project 10, the counseling program for LGBT teenagers in public high schools. In keeping with the vision of George Choy, this scholarship embraces people across the spectrum of sexual minorities.
What is GAPA?
The Gay Asian Pacific Alliance (GAPA) is an organization dedicated to furthering the interests of gay and bisexual Asian/Pacific Islanders by creating awareness, developing a positive collective identity, and establishing a supportive community. GAPA was formed from the need for an organization to address – through a democratic process – social, cultural, and political issues affecting the gay and bisexual Asian/Pacific Islander community.
Who can apply?
You can apply for this scholarship if you:
Self-identify as an Asian/Pacific Islander (at least 25% API ancestry); priority will be given to those who self-identify as lesbian, gay, bisexual, or transgender, or who are involved in the LGBT community
Are in the process of applying to, or are currently attending, a post-secondary institution (college, university, or vocational school)
Live in one of the nine Bay Area counties (Alameda, Contra Costa, Marin, San Francisco, San Mateo, Santa Clara, Napa, Sonoma, and Solano)
Have a grade point average (GPA) of 2.75 or better
How to apply
Application materials and deadline information for the next scholarship to be awarded will be posted as soon as they are available. For more information, please contact us at 415.398.2333.
Some past George Choy Memorial Scholarship recipients
Ty Lim studied Political Science, Asian American Studies, and Ethnic Studies at the University of California Berkeley — perfectly embodies Choy's activist spirit. While in high school, the native of Long Beach, California, started Youths Making a Difference, a nonprofit community services organization focusing on issues ranging from cancer research to AIDS to literacy. Lim formed a chapter on the Berkeley campus and later brought the organization to UC Riverside and UCLA. Lim was also a member of Cal Queer and Asian and started Express 20's, a weekly support group for gay, bi, and questioning men in the East Bay. Lim said that by covering his school and living expenses, the $1,000 scholarship gave him more self-sufficiency and helped ease the burden on his family. "For Horizons and GAPA to be sponsoring this scholarship is tremendous," he said, "because there needs to be more support for youth. They're providing a support base and a kind of surrogate family, and I'm totally grateful."
Tuan T. Louv attended De Anza College studying interior designs. He was an active member of the Asian Pacific American Students for Leadership at De Anza, and his goal was to bridge an emergent gap between the straight and queer API community. "Support from this fund is important to me because it is coming from the API/LGBT community. The George Choy Memorial Scholarship is one of the very few scholarships that recognizes queer APIs as a 'positive identity.' For me and many other queer APIs, this recognition is the ultimate prize."