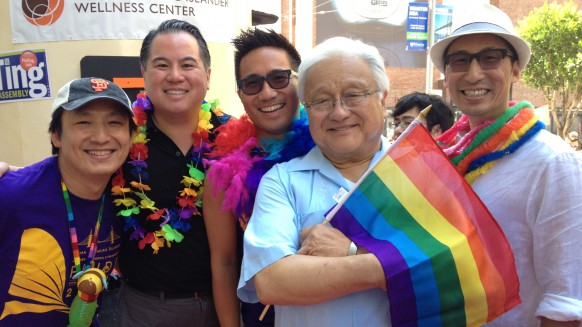 Horizons Foundation's goal has always been to support and strengthen the nonprofit organizations that advocate for the rights of LGBTQ people, address our community's widely varied and often acute needs, and celebrate LGBTQ lives through the arts. Because our community's needs have been so numerous and the opportunities for LGBTQ organizations to seek funding have been so few, Horizons has intentionally funded across a broad range of issues and communities.
Throughout our 35+ year history, Horizons has strongly emphasized supporting nonprofits that advocate for and serve marginalized and/or disadvantaged parts of our community, including LGBTQ people of color, transgender people, LGBTQ people with low incomes, and women. In the same spirit of commitment, the foundation has long looked to fund LGBTQ organizations, causes, and communities that have little chance of finding financial support from other, more mainstream sources.
At present, Horizons Foundation addresses a number of LGBTQ priority areas across our current grantmaking portfolio. New grant programs are introduced from time to time.
Read about some of our past grant programs » 
| | |
| --- | --- |
| Grant Program | Priority Areas |
| Community Issues | Policy change, LGBTQ equality, arts, communities of color, lesbian and bisexual women, elders, and more (this is Horizons' most open annual grants process) |
| Coming Home Fund | LGBTQ elders |
| Global Faith and Equality Fund | Stopping the export of religiously based homophobia from the United States to other parts of the world |
| Donor-Advised Funds | Focuses vary widely, as each donor establishes priorities for his or her own fund |
| Scholarship Funds | Educational support for LGBTQ students (each scholarship has a separate focus) |
If you have any questions about priorities for any particular grant program, or need more information, please contact Francisco O. Buchting, Vice President of Grants, Programs, and Strategic Initiatives, at (415) 398.2333, ext. 116 or [email protected].