Horizons' Q Series are free public events featuring leaders of the LGBTQ movement in dialogue about our movement, our culture, and what it means to be LGBTQ.  The Q Series offers excellent opportunities to learn about the work being done by Horizons' grantee partners and to meet and connect with others.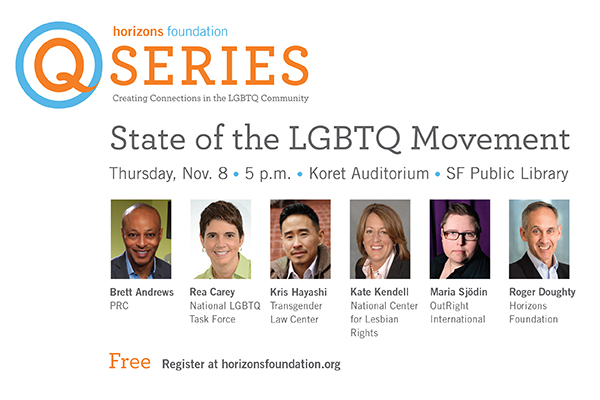 STATE OF THE LGBTQ MOVEMENT UPDATE 2018
Free, but advance registration requested.  Register here.
5:00 p.m. – Reception/5:30 p.m. Program
Our Q Series wraps up its season with our Annual State of the LGBTQ Movement Update.  Horizons' President Roger Doughty moderates a panel of leaders from across our movement about the challenges we face and the successes we've seen.
Brett Andrews, Executive Director, PRC

Rea Carey, Executive Director, National LGBTQ Task Force

Kris Hayashi, Executive Director, Transgender Law Center

Kate Kendell, Executive Director, National Center for Lesbian Rights

Maria Sjödin, Deputy Executive Director, OutRight International

Moderator: Roger Doughty, President, Horizons Foundation
We hope you can join us! 
Capacity is limited and RSVP is requested. If you have questions or you would prefer to RSVP by email, please contact Anthony Morin, Corporate Relations and Events Manager, at 415.398.2333 x115 or email at [email protected].