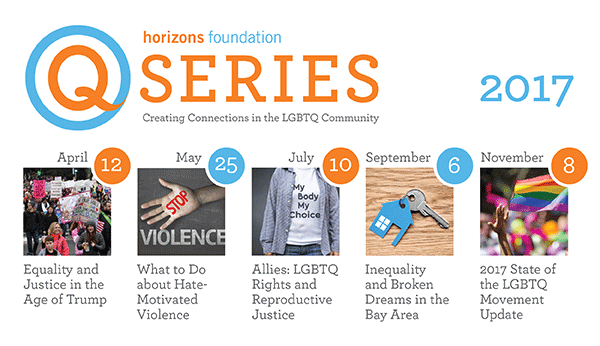 For more than a decade, Horizons has hosted sessions designed to inspire and educate LGBTQ donors and connect them to causes about which they're passionate. These sessions also help individuals and families learn about essential financial and life planning issues.
Programs include high-level, strategic discussions about movement strategy, emerging issues affecting the LGBTQ community, how to give more effectively and strategically, and retirement and legacy planning. Led by outstanding professionals and community leaders, Horizons' annual Q Series has earned a reputation for offering superb educational sessions that also serve as donor networking opportunities in a solicitation-free space.

The 2017 Q Series
We hope you will join us! 
Capacity is limited and RSVP is required. If you have questions or you would prefer to RSVP by email, please contact Anthony Morin, Corporate Relations and Events Manager, at 415.398.2333 x115 or email at events@horizonsfoundation.org.