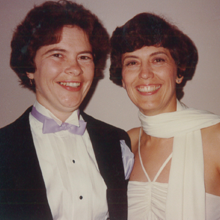 When it comes to giving both time and money to organizations in our community, Bev Scott and Courtney have a history that dates back to their childhoods, when each of them were encouraged by their parents to give to things they cared about.
When they moved to the San Francisco Bay Area in 1982, Bev was worried that her ex-husband would fight for custody of her daughter. At the time, lesbian mothers across the country were having similar courtroom battles—and losing. Bev valued the important resources to support her family at the Lesbian Rights Project (LRP), now the National Center for Lesbian Rights. Courtney was already an LRP staff and supporter of their work, as was Horizons.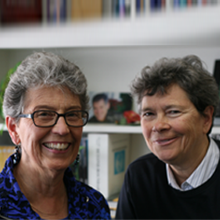 Years later, Bev and Courtney wanted to be sure their legacy plans reflected their shared values of giving back to the LGBTQ community that they've been so passionate about during their lifetimes. "We want to take care of our daughter and grandson, but we're still committed to giving a portion of our estate to Horizons Foundation," Bev says.
During their planning, Bev and Courtney learned that retirement accounts are a great asset to leave to charity. Courtney, a tax preparer, especially appreciates this planning tool, saying, "If we leave these assets to an heir, there's a big tax liability, but by leaving them to charity, 100 percent of our dollars go to the community."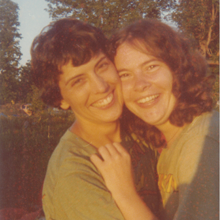 "We're leaving a legacy gift to Horizons because with one gift, we can support the whole community, including an emerging organization we don't even yet know about," Bev says. "That is important to us."
Bev and Courtney celebrate 38 years together this year.