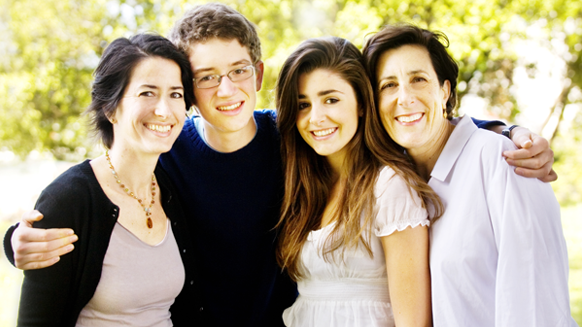 Horizons supports organizations in all corners of the Bay Area and beyond. Whether it's one of our vital anchor organizations, or a promising new nonprofit that's rising to meet an emerging issue, Horizons provides crucial support to help meet the needs, secure the rights, and celebrate the lives of LGBTQ people – support that's contributed to many of the gains we're experiencing today.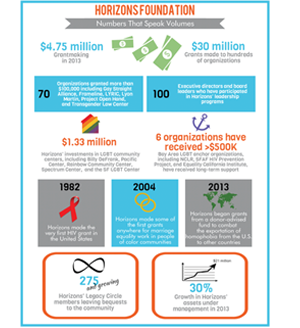 Horizons' work – for the past 35 years – has been possible thanks to the generosity of thousands of individuals who've invested in it. Our donors play a critical role in sustaining this work across the decades. The accomplishments, the growth, and all the potential of Horizons Foundation is due to  supporters, like you, that have made this possible. Hundreds of organizations. Millions in grants. Hundreds of individuals leaving legacy gifts to the LGBTQ community. 
We rightly celebrate our historic progress, but we're not hanging a mission-accomplished banner yet. We're still writing our story. The story of a movement that will not accept anything less than full legal, social, and economic justice. Every family protected. Every young person safe and thriving. All elders able to age with dignity and in community. Resources created and passed on, so that future generations are ready for all the challenges and opportunities that lie ahead.
Support Horizons today. Together we can make all the difference.
Leadership Circle
Friends Circle
Loyalty Circle
Legacy Circle
Horizons' Legacy Circle honors individuals and couples who have included the foundation in their legacy planning by making a bequest in a will, creating a trust, or designating Horizons as the beneficiary of an insurance policy, retirement plan, security, or other asset. Through Horizons' LGBT Community Endowment Fund, Legacy gifts help ensure that future generations will have unprecedented financial resources to address community needs that we cannot predict today.
For more information, please contact Deb Stallings, Vice President of Development, at (415) 398.2333, ext. 103 or [email protected].