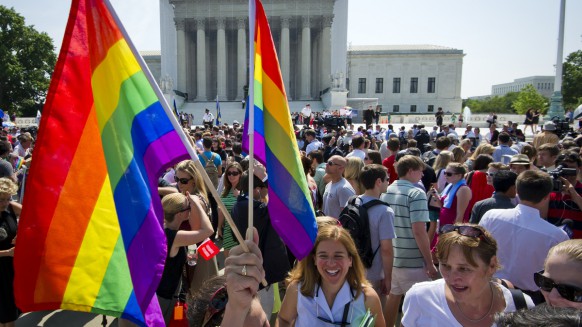 The generosity of individuals has been at the heart of the LGBTQ movement for equality and community building since the very earliest days. Bar fund-raisers. Raffles. Drag shows. Penny jars on checkout counters.
For decades, individual donors from every part of the LGBTQ community, including our allies, have funded progress at every step. Long before and long after Stonewall, no one else would give us a dollar. Mainstream foundations and corporations wouldn't touch us; the government would barely acknowledge our existence, much less fund our community. Even when we were dying.
Every gift has mattered. The big checks and the dollars stuffed in buckets alike. Every single act of giving has helped us move forward against overwhelming odds. All of these donations combined have powered our movement to win court battles, promote the truth and counter our opponents' lies, keep LGBTQ families together, and ensure that our sick and dying have support when they need it most. Every single gift has changed our lives and our world.
Money, movement, and community
The progress we've made is due to millions of individual sacrifices, millions of marchers and protesters, millions of volunteers, and millions of acts of courage. It's due to strong, smart leaders, and to politicians and judges willing to stand up for what's right. It's rather obviously not all about money.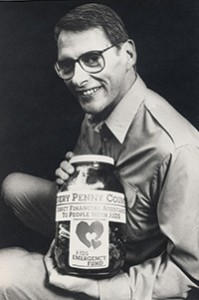 At the same time, money has always been and will always be absolutely essential to our progress. Money is vital to the effectiveness and impact of nonprofit organizations that advocate for us and address our community's needs. Money is vital for political power and cultural influence.
Giving is also about far more than money. It's about community. It's about pride. It's about connections among us. It's about finding and celebrating what's common among us and the wonderful ways we differ.
Horizons and LGBTQ Giving
For more than 30 years, Horizons Foundation has promoted and inspired ever-increasing giving to the LGBTQ community. We've worked with scores of mainstream foundations and thousands of individuals and couples to provide LGBTQ nonprofit organizations with the funding they need to do their vital work. When you give to Horizons, you give to many.