Meet One of Our Earliest Donors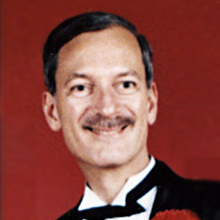 "Jack Hambly was a quiet, unassuming, lovely man," said Roger Gross, his friend and attorney. "He was a genuinely nice person." Hambly, who died from pancreatic cancer in 2004, is remembered for his warm heart, his love of world travel and cooking, and his generosity. That generosity has continued even after his death with a legacy gift to Horizons, which had long benefited from his philanthropy during his lifetime.
Hambly and his partner of 20 years, John Peters, had been involved with Horizons from early on. They were longtime members of the Golden Gate Business Association Foundation, the precursor to Horizons. Gross recalls seeing the couple at the very first "22 on the Red" event, a casino night fundraiser for the foundation that was held for many years. Hambly was committed to charitable giving, and the number of nonprofits he supported amazes Louis Rockwood, another friend and the executor of his estate. "Jack donated to many organizations over the years."
Born and raised in San Francisco, Hambly was the president of his senior class at Mission High School in 1954, and later became the accounting supervisor for Southern Pacific Railroad. Hambly was connected to many different groups of people, reflecting interests from the opera to the Art Deco Society. "He was quite a character," Rockwood laughed. Rockwood also wanted to spread the word about his friend's legacy gifts to the LGBT community: Hambly not only left 10% of his estate to Horizons, but also gave 10% to the AIDS Emergency Fund.
"Jack was very generous with his friends – and with everyone, really."