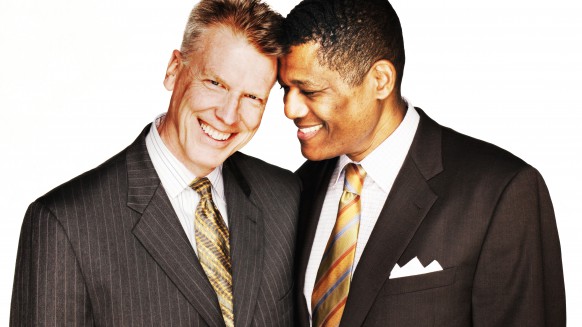 Over the years, we've supported thousands of individuals, couples, and families around their giving. Helping donors is a core part of Horizons' mission, so we've selected resources that can support you in thinking about your own giving. These resources will be updated periodically to bring new resources to donors' attention.
Horizons Q Series
Horizons' Q Series are free public events featuring leaders of the LGBTQ movement in dialogue about our movement, our culture, and what it means to be LGBTQ.  The Q Series offers excellent opportunities to learn about the work being done by Horizons' grantee partners and to meet and connect with others.
These popular programs include high-level, strategic discussions about movement strategy, emerging issues affecting the LGBTQ community, how to give more effectively and strategically, and feature outstanding professionals and community leaders. 
The 2018 Q Series
Queer Art: Our Stories of Resistance and Rebuilding – July 10, 2018
Expanding the Alphabet: Is Traditional Gender Identity Passé?
State of the Movement 2018 – November 8, 2018
We hope you will join us! 
Capacity is limited and RSVP is required. If you have questions or you would prefer to RSVP by email, please contact Anthony Morin, Corporate Relations and Events Manager, at 415.398.2333 x115 or email at [email protected].
LGBTQ Organizations Directory
The LGBTQ community is richly diverse in a multitude of ways, and there are a large number of LGBTQ nonprofits that advocate for and address the needs of many different parts of our community. While many fulfill vital roles, it can be overwhelming for a donor. Figuring out where to give can be complicated. For example, you may care deeply about conditions for LGBTQ young people in schools, but that doesn't mean you know which organizations are working to support that population.
Our LGBTQ Organizations Directory is designed to help donors — as well as policymakers and other leaders — understand who is doing what and where. Whether you browse the entire guide or use the search function to zero in on what you're passionate about, this directory can be an important resource for your own giving strategy and decisions.
Since the goal of the LGBTQ Organizations Directory is to provide information, not to evaluate nonprofit organizations, all information in the guide is gathered directly from the listed organizations themselves.
Coming Soon!
National Nonprofit Databases
There are a number of national databases that contain information about thousands of nonprofits, including many that serve and advocate for LGBTQ people. Two of the most well-known are GuideStar and Charity Navigator. Among other things, GuideStar connects you to the financial records of nonprofits, including official forms filed with the IRS. Charity Navigator offers ratings for nonprofits as well. Put together, these two websites provide valuable baseline information about many of the nonprofits LGBTQ donors may wish to support. At the same time, there are important limitations to the usefulness of these tools. (See, for example, Charity Raters Part I: Charting the Bad and the Bad, a report put together by Blue  Avocado.) In fact, even the leaders of these well-known watchdogs recognize some of the limitations of the tools created as guides for charitable giving.
Horizons' Donor-Advised Fund program
Planning Your Legacy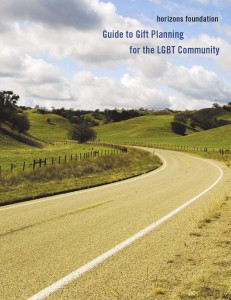 Although it can be tempting to avoid thinking about our estate plans, this planning is a profound opportunity to create the kind of legacy you want to have. We work with many donors every year to develop estate plans that reflect their passions and their values. Throughout the entire process, you're in charge, and we're here to help you.
Horizons has also produced a one-of-a-kind Guide to Gift Planning for LGBTQ Donors, which covers everything from which assets to give as legacy gifts to how you can make those gifts most easily. The guide also includes useful tools for thinking through how to design your legacy.
Access Horizons' planned giving tools »