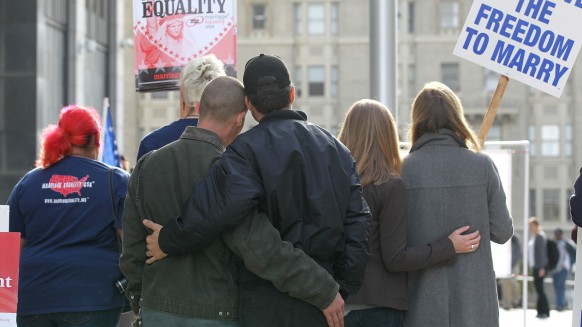 Nonprofit organizations serving the LGBTQ community face formidable challenges, and Horizons has a long history of working to support our community's nonprofits beyond grantmaking alone.  Some of these challenges are similar to those faced by many nonprofits (such as fundraising) and others are specific to our community (such as the struggle for organizations to reach LGBTQ people in need who aren't out).
INCREASING LGBTQ GIVING TO OUR COMMUNITY
As a philanthropic institution dedicated to strengthening both the national LGBTQ movement and our  Bay Area community, Horizons has been a regional and national leader in efforts to increase giving by LGBTQ people to LGBTQ causes.  Our sponsorship of Give OUT Day is one example.
Together with other foundation leaders, Horizons has co-led a multi-year national project to help our nonprofits raise more funds for their work . The LGBTQ Giving Project issued its final report on a two-year phase of the project that involved in-depth research and real-world testing of strategies for LGBTQ nonprofits of all kinds to increase fundraising.  The report features actionable recommendations and shares the factors that led participating organizations to achieve an average 33% growth in fundraising. View the LGBT Giving – Project Report. 
THE POTENTIAL IN PLANNED GIVING FOR LGBTQ NONPROFITS
As a member of a National Task Force on LGBTQ Planned Giving, Horizons has released a landmark report on the opportunity for LGBTQ nonprofits in planned giving, especially in giving by LGBTQ people through their estates. The Task Force closely examined the scale of this opportunity and developed a four-part strategy to begin to tap it. The report offers dramatic evidence of the immense potential in LGBTQ planned giving – and reveals the lack of readiness among LGBTQ nonprofits to attract planned gifts.  The four-part strategy lays out a path for the movement to develop planned giving systematically on a national and regional basis.  View the National LGBTQ Planned Giving Strategy Executive Summary.
You can also view the full report here: National LGBTQ Planned Giving Strategy Full Report
SILVER LININGS FOR LGBTQ FUNDRAISING
There's no doubt that today's political environment is challenging for all marginalized communities, including the LGBT community. If there's any silver lining, it's that many individuals are stepping up philanthropic support for the causes they care about, especially those they feel are under threat; and others are engaging as donors, volunteers and advocates for the first time. Horizons and other foundation leaders have recently completed an additional research project that examined how LGBTQ organizations can most effectively fundraise in today's environment.
This "Silver Linings" project resulted in a series of blog posts that drew on extensive surveys and focus groups conducted in 2017.  This blog series begins to address:
How LGBT-focused organizations can take advantage of this environment to maximize fundraising
How you can convert those efforts into long-term relationships that help sustain your work
You can find all seven posts here:  Silver Linings Toolkit
ADDITIONAL RESOURCES
There are abundant learning resources for nonprofits and their leaders produced by countless think tanks, technical support groups, universities, and many others. Here are a few that many LGBTQ nonprofits have found helpful.
Funding resources
Organizational support resources
Resources for boards
Great materials on a shoestring budget