Pride and Joy Holiday Giving Program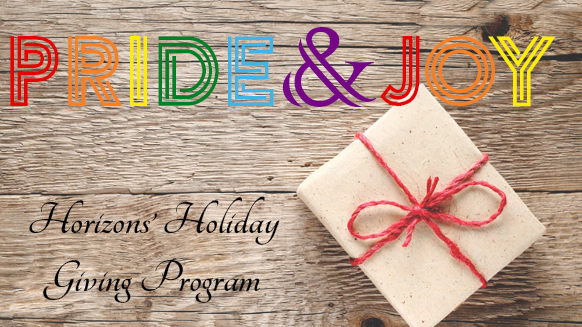 We are delighted to announce a new holiday giving initiative – Pride & Joy.
This program will provide items needed by a group of LGBT international refugees who we honored with our Courage Awards at our 35th Anniversary Gala. These individuals have recently relocated to the Bay Area from places like Syria, Cameroon, Uganda, and Georgia because they faced danger and persecution in their homelands. Their powerful, personal stories of courage, persistence, and resilience were both heartbreaking and inspiring.
Horizons has teamed up with Jewish Family & Children Services of the East Bay (JFCS) to help make the holidays a little brighter for LGBT refugees/asylees who have relocated to the Bay Area in the past year. Case managers have worked with their clients to develop wish lists of basic items they need  – these lists include warm clothes, blankets, grocery gift cards, basic home needs, shoes – as they work to build a new life here in the Bay Area. Horizons volunteers will do all the shopping, wrap the gifts and deliver them all to JFCS for distribution.
Jewish Family & Children Services of the East Bay provides comprehensive resettlement services for LGBT refugees who have fled their home countries due to persecution based on their sexual orientation or gender identity. It is the only program in the country that specifically resettles LGBT refugees.
We need to raise a minimum of $5,000 to provide for everyone, and additional money would allow us to provide some of the more expensive items, like laptops. Any money in excess of what's needed to fulfill the wish lists will be donated to provide ongoing support for LGBT refugees and asylees.
We are also happy to announce that members of Dropbox's employee resource group – Pridebox – will assist any donors, staff, and volunteers who want to participate in the shopping trip, and will host a "wrap party" to prepare the gifts for delivery to JFCS. 
If you would like more information about this new holiday initiative or would like more information about how you can participate, please contact Deb Stallings, Vice President of Development, at 415.398.2333 x103 or [email protected]. 
Make a gift to Horizons' Pride & Joy Giving Program