A Conversation with Queer Ancestor's Project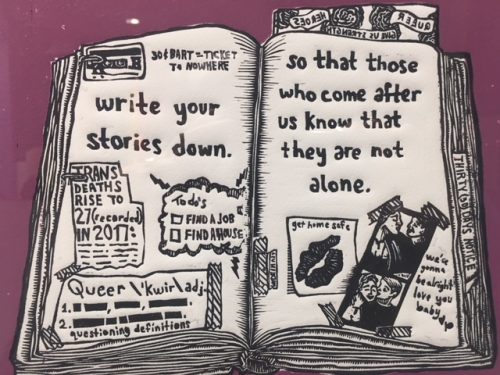 The Queer Ancestor's Project is an annual free 18-week workshop for LGBTQ artists between the ages of 18-26 who study printmaking and LGBTQ history to create and exhibit prints exploring queer and trans history.  Horizons caught up with Katie Gilmartin and some of the participating artists to learn more about why it's important that younger generations connect with their queer history:
Katie:  This is an important moment in history for us to be connecting with our queer ancestors, understanding their history of oppression, connecting with their extraordinary histories of resistance.
One of the things that moves me most is seeing how each individual artist connects with their own particular queer ancestor. Whether it is because they trucked off to the GLBT History archives and read the full transcript of their queer ancestors or because they discovered the incredibly powerful emotional resonance in the lives of one of their queer ancestors – from having suicidal thoughts to having erotic orgasmic responses to all things in life – and creates art about that. This is not only about the physical art but how they figure out how to forge those connections.
Katie:  How do you connect to queer ancestors?
Bení A: I studied ethnic studies and sociology and that led to a lot of self-discoveries and what I learned is that it's more than just a box and that it's more layered and dimensional.  Gloria is someone I studied a lot and she said that queer people really connect every race, religion, age, and economic class. I draw strength from that because beyond the bloodlines of the ancestors that are best known in history and their physical features – the people we feature in this exhibition – they paved the way for all of us.  There's power to be harnessed in learning that.  When people don't know their history, that can be directly correlated to why they're oppressed or have less rights. That's why it's important to not ask for permission to claim what is ours.
Cedar K:  I went into it not knowing what I was going to make. I responded by thinking about everyone who has influenced me and finding the first time I heard stories and taking that in emotionally and connecting.
Ben P: Something that really impressed me was the resilience of the history and how we've overcome so many struggles and how we're here today because of the struggles our ancestors fought against.  I thought about certain people who embodied a sense of resilience, those who broke the lavender ceiling.
Luis: I wanted to celebrate people who are currently alive because they are our future ancestors.  So I asked what words of wisdom do you have for future generations – words that you would have said to a younger self.
Yonit: I wanted to make a piece about my own relationship to studying queer ancestry and that was about how I see queerness about my personal spiritual practice, how ancestors play a role in that, how it is based upon researching historical queerness in Judaism and that ancient texts include queerness and how that plays into my life.  And I wanted to focus on those who are invisible. Who we have no records of, we know nothing about queer women in ancient times.  We have no visual representation of these women and so I wanted to put it out into the world.