Horizons Foundation's Now and Forever campaign will change the world. For good. For us. For future generations. Forever. 
THE CHALLENGE
Our community still faces significant near- and long-term challenges and our organizations struggle for sufficient funds to do what needs to be done.
THE GOAL
To ensure that nonprofits have the funds they need to advocate for and serve LGBTQ people.
THE STRATEGY
Through the Now and Forever Campaign, to raise and invest $3.5 million over five years to increase support to nonprofits that serve and advocate for the LGBTQ community, strengthen Horizons Foundation, and generate a minimum of $100 million in future legacy commitments for our community's future. 
THE CAPITAL: $3.5 MILLION
$3.5 million in "jumpstart" community-based gifts — large and small — to be invested over five years in programs, capacity, and projects to help secure our future — forever.

THE PAY-OFF: $100 MILLION
By the year 2020, Horizons will have secured a minimum of $100 million in future legacy commitments to the community, including the LGBTQ Community Endowment Fund to create permanent, ongoing resources for our community.
Increased, dependable, long-term support to nonprofits serving and advocating for LGBTQ people.
A strong, enduring philanthropic institution dedicated to the LGBTQ community — forever.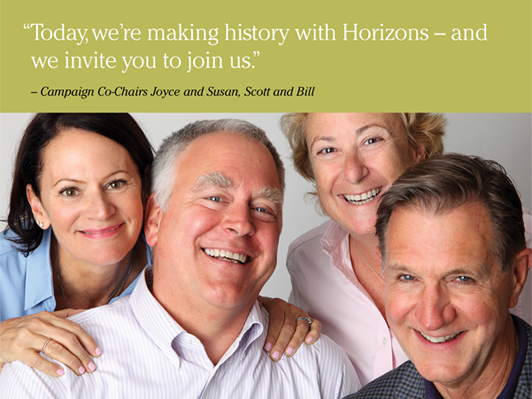 Let's talk. To learn more about the Now and Forever Campaign, please contact Deb Stallings, Vice President of Development, at (415) 398.2333, ext. 103 or [email protected].
Make a gift to the Now and Forever Campaign »